Sample Medicare Summary Notice (MSN) - Top
Question 3 of 8 (use "Last" or "Next" buttons to see more)
Last Update: April 22, 2008
Below is a sample of the top portion of a Medicare Summary Notice (MSN) with explanations of the information you will find in each section. The top portion of the MSN is the same for both Part A and B services.
Remember that the MSN is not a bill. Do not send money to anyone in response to the MSN.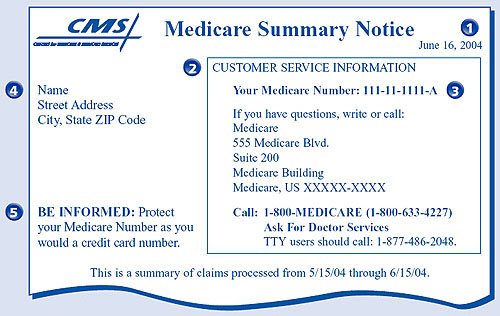 Date: Date MSN is sent.

Customer Service Information: Who to contact with MSN questions. Give your Medicare number (3), date of the MSN (1), and date of service you have a question about (9).

Medicare Number: The number on your Medicare card.

Name and Address: If incorrect, contact the Social Security Administration at 1-800-772-1213 immediately. If you have Railroad Retirement Board benefits, call your local RRB office or 1-800-808-0772.

Be Informed: Messages about ways to protect yourself and Medicare from fraud and abuse.