Below is a sample MSN for Part A services with explanations of the information you will find in each section. Part A services may include inpatient hospital care, skilled nursing facility (SNF) care, hospice care and home health care.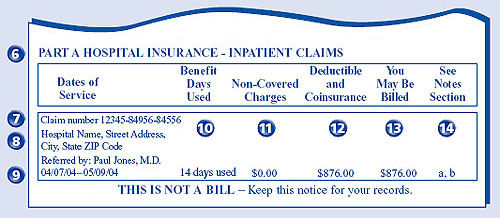 6. Part A Hospital Insurance—Inpatient Claims: Type of service. See the back of MSN for additional information. Please note: For outpatient services, this section is called "Part B Medical Insurance—Outpatient Facility Claims."
7. Claim Number: Number that identifies this specific claim.
8. Provider's Name and Address: Facility's name and billing address. The referring doctor's name may also be shown. The address shown is the billing address, which may be different from where you receive the service(s).
9. Dates of Service: Date service was provided. You may use these dates to compare with the dates shown on your hospital bill.
10. Benefit Days Used: Number of days used in the benefit period. See the back of your MSN for an explanation of benefit periods. (For outpatient services, this column is called "Amount Charged.")
11. Non-Covered Charges: Charges for services denied or excluded by the Medicare program for which you may be billed. If a $0.00 appears in this field, it means that there were no services denied or excluded by Medicare for which you may be billed.
12. Deductible and Coinsurance: The amount applied toward your deductible and coinsurance. Your deductible is the set amount you must pay before Medicare begins paying for your health care. A coinsurance is the amount you pay for each service.
13. You May Be Billed: Total amount provider can bill you. It includes the deductible, coinsurance, and any non-covered charges. If you have supplemental insurance, it may pay all or part of this amount.
14. See Notes Section: If letter appears, refer to "Notes Section" (15) for explanation.