Everyone who enrolls in Medicare receives a red, white, and blue Medicare card. This card lists your name and the dates that your Original Medicare hospital insurance (Part A) and medical insurance (Part B) began. It will also show your Medicare claim number, which serves as an identification number in the Medicare system. (If you get Medicare through the Railroad Retirement Board, your card will say Railroad Retirement Board at the top.)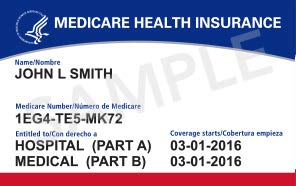 If you have Original Medicare, make sure you always bring this card with you when you visit doctors and hospitals so that they can submit bills to Medicare for payment. If you have a supplemental insurance plan, like a Medigap, retiree, or union plan, make sure to show that plan's card to your doctor or hospital, too, so that they can bill the plan for your out-of-pocket costs.
If you are enrolled in a Part D plan (Medicare prescription drug benefit) in addition to Original Medicare or certain private health plans, you will have to use the Part D plan's card at the pharmacy.
If you join a Medicare Advantage Plan (like an HMO, PPO, or PFFS), you will not use the red, white, and blue card when you go to the doctor or hospital. Instead, you will use the membership card your Medicare Advantage Plan sends you to get health services covered. You will also use this card at the pharmacy if your plan serves as your Part D coverage.
New Medicare cards
Currently, your Medicare claim number is the same as your Social Security number. However, starting in April 2018, Medicare is mailing new Medicare cards to all beneficiaries. Your new card will have a unique number that is different from your Social Security number.
To make sure that your card is mailed to the correct location, call the Social Security Administration (SSA) to verify or update your current mailing address. Do not feel concerned if you do not receive your card right away, but be sure to call 1-800-MEDICARE (633-4227) if you do not get your new card by April 2019.
After you get your new Medicare card, destroy your old card and start using your new card right away.
Your Medicare card, Social Security card, and other health insurance cards are very important documents. Make sure to keep a photocopy of your important identification and insurance cards, write down any numbers, and keep everything in a safe place so that you have a record for future reference if you lose any of them. If your card is ever lost, stolen, or damaged, you can get a replacement card from Social Security by calling 800-772-1213. After you receive your new Medicare card, you will also be able to print your own replacement card.
Remember: Do not give your Medicare or Social Security numbers or personal data to strangers. Medicare will never ask for this information over the phone. If you believe you have been the target of Medicare marketing or billing fraud, contact your local Senior Medicare Patrol.