Everyone who enrolls in Medicare receives a red, white, and blue Medicare card. It will list your name and the dates that your Original Medicare hospital insurance (Part A) and medical insurance (Part B) began. It will also show your Medicare claim number, which is the same as your Social Security number and identifies you in the Medicare system. (If you get Medicare through the Railroad Retirement Board, your card will say Railroad Retirement Board at the top.)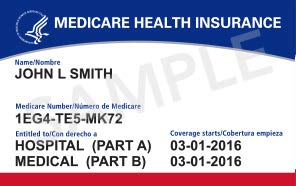 If you have Original Medicare, make sure you always bring this card with you when you go to the doctor and to the hospital so that they can submit the bill to Medicare for payment. If you have a supplemental insurance plan like a Medigap, retiree or union plan, make sure to also show that plan's card to your doctor or hospital so that they can bill the plan for your out-of-pocket costs.
If you join a stand-alone Medicare private drug plan (Part D) in addition to Original Medicare or certain private health plans, you will have to use that plan's card at the pharmacy.
If you join a Medicare Advantage Plan (like an HMO, PPO, or PFFS), you will not use the red, white, and blue card when you go to the doctor or hospital. Instead, you will use the membership card your Medicare plan sent you to get health services covered. You will also use it at the pharmacy if your health plan has Medicare prescription drug coverage (Part D).
Your Medicare, Social Security and other health insurance cards are very important documents. Make a photocopy of your important identification and insurance cards, write down the numbers and keep them in a safe place, so that you have a record for future reference if you lose any of them.